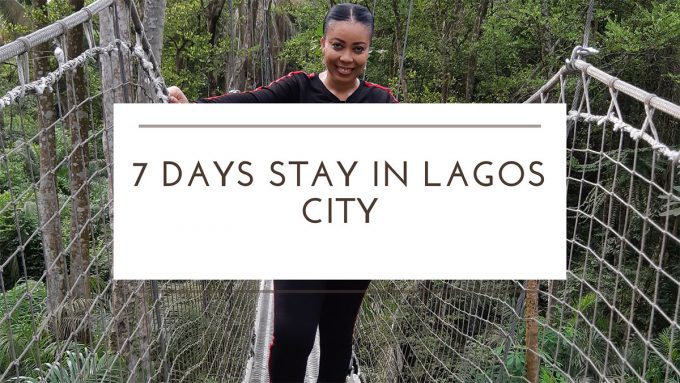 Lagos the city that never sleeps! just like every other busy city all over the world. Lagos is the commercial hub of Nigeria, a country in West Africa. This city has a striking population in Nigeria and Africa as a continent.
Lets get down to the proper gist from the angle of a traveler.
Eko, is the yoruba name for Lagos, so do not get confuse or feel lost when you hear Lagos referred to as eko. The hustle and bustle of Lagos is so real, life is on the fast lane, the smartest not the fastest wins the race.
Common say of hustlers in pidgin English is "I no come Lagos to count bridge" which translate to "I am here to make money"
Monday to Friday is extremely busy with traffic jam, on a bad day you can spend 4 hours in traffic for a 30 minutes trip. Weekends are for turn up, arguably there is no party like a Lagos party. Three common spoken languages in Lagos are English, Pidgin English and Yoruba.
Tips on how to spend 7 days stay in Lagos city
Lekki Conservation Centre
Lekki conservation center (LCC)is a nature park and home to several species, this center has grown over the years to one of Africa most visited nature conservation. It was established in 1990 by the Nigeria Conservation foundation (NCF).
If you are an ecotourist, this is one place to visit. This center has less visitors during the week, as most inbound visitors are at their places of business. Weekends and public holidays are usually the busiest, with families, couples, groups you name them, all streaming in to connect with nature.
This center currently has the longest canopy walk in Africa and the second longest in the world. Its a suspended swigging bridge walkway through the thick vegetation of the forest. It has just one entry and one exit with 6 connecting towers, once you are in, you are in. You get the bird eye view of different habitat from this height.
Ticket entry fee per person is less than USD30 and its open everyday.
Balogun Market also known as Idumota
Looking for a one stop place to get all the local as well as foreign merchandise, then Balogun market also know as idumota is the place to go. Balogun market is the biggest in Nigeria and West Africa, situated in the heart of Lagos Island. It has no particular address because the market spreads across so many streets on the island.
Balogun market is the best place to get Africa fabrics of all sorts, shoes, accessories, anything you want is available in Balogun market. To explore for great deals, its advisable to go with a tour guide or someone who knows the market very well and has great bargain skills. Traders never give the best cost,so you need to bargain back and forth to get the best deal, its all fun and part of the experience.
New Afrika shrine
Looking for the best show in town for Afro music, visit the Fela kuti Afrika shrine and get wow. The shrine is named after the late Fela Anikulapo kuti, the legendary founder of Afrobeat music and human rights activist.
Visitors can choose to stay outdoor in the open air entertainment or indoors, local delicacies are served such as ofada rice, pepper soup, pepper snail,pepper fish, drinks and good music. Entrance to the venue is free on most occasion, his sons Femi and Seun Kuti performs at the shrine on some days as well as other A-lists Nigerian artists.
This is also a great place to get Africa souvenirs. Have you watched any of the Fela Kuti play show outside Africa?
Nike Art gallery
Mama Okundaye as popularly known invites you to come visit Nigeria and explore her culture and arts showcase at the Nike Art Gallery.
The Nike Art Gallery is owned by Nike Davies-Okundaye, situated in Lekki phase 1 area of Lagos. The gallery is the largest in West Africa with over 8000 diverse artworks collections from Nigerian artists displayed on 5 floors tall building.
On your arrival, you are sure to be welcome warmly by the delectable Mama Okundaye .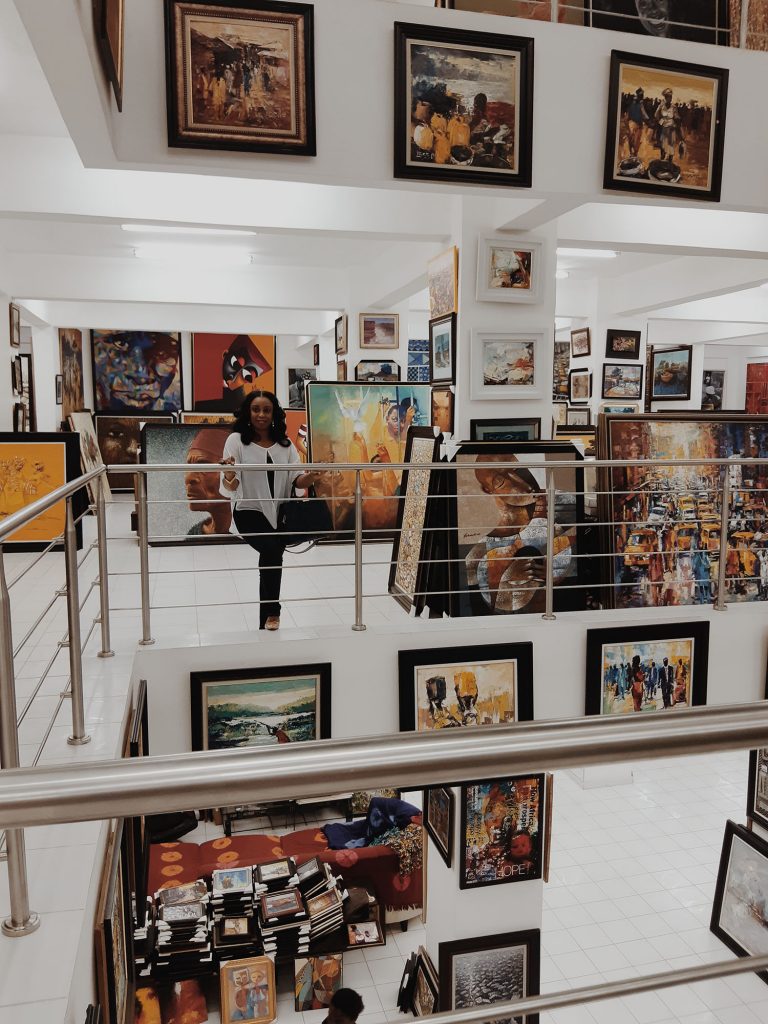 Go downtown to meet the locals
How incomplete will a visit to Lagos be without going downtown. Downtown is where you meet the locals, dine in local restaurants for the best local dishes, hear the latest gossip in town. The fun way to connect with the local is to behave like the locals.
Be adventurous and ride locally on commercial transport systems called Danfo Bus, its a yellow 14 seat Bus, motorbikes called Okada, Tricycle know as KeKe.
Badgary slave town
Badagry slave route Point of "No Return" journey to unknown destination.
Badagry is a coastal town situated in Lagos, during the slave trade, this town was the middleman for slave trade activities from the hinterland to Europe and America markets.
Over 500,000 Africans were sold for slavery in the course of 3 centuries. Today, this destination has become a tourist attraction for tourists seeking to known more about the slave trade. Slaves passed 5 stops in the course of " journey of no return".
Friday to Sunday nights is when the city lights up for clubbing, there are also beautiful restaurants by the ocean to dine.
Now you have it! allow me officially welcome you to my city, when will you be visiting Lagos Nigeria?
---